Traditional African Music for Classical Musicians
This page has been set up for African (Ugandan) composer Justinian Tamusuza. The music of Justinian Tamusuza blends western classical and Ugandan traditional styles, and has caught the ears of musicians, composers and listeners all over the world. Recognized as one of the leading contemporary African composers, he has composed a number of works for Western classically trained musicians incorporating traditional African folk elements, minimalist techniques and poly-rhythms. Tamusuza's music is a bubbling, earthy romp through African-European cultural distinctions. His music compares to America's minimalist composers (notably Steve Reich and John Adams) but close inspection reveals a more complex structure. African poly-rhythms dazzle the ear with misleading accents, tripping up the happy and complex weave of simple pentatonic melodies. Justinian's music relies on the imitation (simulation) of Ugandan instruments such as the tube-fiddle and the lyre. Western players have to re-think their techniques and approach toward their instruments. The strings might play sul ponticello to resemble the reedy sound of the tube-fiddle. The drumming of intricate rhythms on the body of instruments is also common in Tamusuza's works.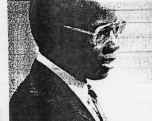 Justinian Tamusuza was born in 1951 in Kibisi, Uganda in East Africa. His early musical training was in Kigandan traditional music: singing, playing drums and tube-fiddle, endingidi. He studied with the Reverend Anthony Okelo and with Kevin Volans at Queens University in Belfast, Ireland. He received his doctorate in composition at Northwestern University in Evanston, Illinois as a student of Alan Stout. Tamusuza served from 1993 to 1995 as a member of the Music Jury of the International Society of Contemporary Music, ISCM. He is the African representative for the Composers Guild of New Jersey and was most recently a member of the International Council for africa95. Tamusuza was the Artistic Director of the africa95 African Composers Workshop in the United Kingdom, hosted by the Royal Liverpool Philharmonic Orchestra and the Liverpool University in November, 1995. Tamusuza has taught music composition, theory and analysis at the Department of Music, Dance and Drama at Makerere University in Uganda and has also held a professorship at the School of Music at Northwestern University.

Tamusuza first came to world attention through the Kronos Quartet, whose CD "Pieces of Africa" features Tamusuza's first string quartet, Mu Kkubo Ery'Omusaalaba. The CD reached No. 1 on the Billboard Classical and World Music Charts in 1992. He has since been commissioned by Kronos (for his second string quartet), the International Society of Contemporary Music, ISCM (Essen, Germany 1995), the Chamber Symphony of Princeton and the Richmond Symphony Orchestra of Virginia. During 1996-1997 Tamusuza will complete new works for the traditional Ugandan group, Abaana B'Engoma. 1996 will also see the premiere of Ekivvulu Ky'Endere, a chamber piece for flute, viola, prepared harp, marimba and maracas. He has also been appointed to the Advisary Council for the Centre for Intercultural Music Arts in London for the next three years.


Published Instrumental Compositions by Justinian Tamusuza
Seeking a Position as Composer-In-Residence/Teacher with a Symphony Orchestra or University
Having just completed his Doctoral work (Northwestern University), Justinian Tamusuza is interested in finding a position with a symphony orchestra or university where he may compose and teach. His degrees include B.A. Hons. Music, Dance and Drama, and History, Makerere University, Uganda, M.A. Hons. Twentieth Century Music, Belfast, Ireland, and Concurrent Diploma in Education, Makerere University. Justinian has taught harmony, counterpoint, orchestration, piano, African instruments and music analysis to undergraduates and graduates. His composition teaching is in both Western and African music. "I was edified and astounded by the uniqueness of Mr. Tamusuza's voice and ability to integrate his African musical language into classical western culture. None of the scores I have seen in recent years can compare with the originality and freshness of Justinian Tamusuza's" Mark Laycock, Conductor. "We would like to include our whole-hearted endorsement of any project you would care to undertake with Mr. Tamusuza. We have found him to be a thoroughly unique, dedicated and professional artist, a true pioneer of contemporary African music whose efforts deserve world-wide encouragement." Robert Pollock, Artistic Director, Composers Guild of New Jersey.


Please contact the e-mail addresses below if you are interested or would like references or a resume.


Links to Other Sites About Uganda


Send e-mail to Justinian Tamusuza in Uganda, Africa

Send e-mail to Justinian Tamusuza c/o Adam Lesnick at International Opus

This page was last updated February 2001.